The "Rise" of Platform Shoes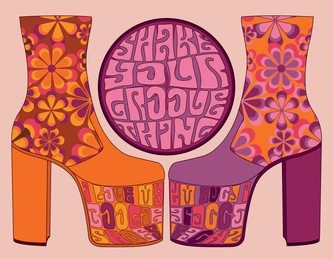 From acting to disco to punk, platform shoes have had a wide history across the world. Starting c. 220 BC, Greek actors wore platforms to establish their importance as performers. The taller the shoe means the easier it was to spot. 
Throughout history, platforms have been used as a way of showing importance or a way to give some sort of leverage. C. 1938, Salvatore Ferragamo created one of the first platforms to make its emergence within the fashion world. Described as a 'Gold Nappa' sandal with a cork heel and wedge lined with various color suede' by the Ferragamo website, these shoes were made for American actress Judy Garland. 
With disco on the rise during the 1970s, men and women were both seen rocking a pair of classic disco platforms. With their lace-up fronts and high heels, disco-enjoyers used the shoe to elevate the attention onto themselves. 
Glam and punk rockers wore platforms as a part of their performance. Known for his androgynous style, David Bowie was usually seen on stage rocking a pair of platforms. From flat-bottomed to kitten heels, it's clear to see Bowie loved his big-soled shoes. 
After the 2000s started, the platform hype started to die down. The 2020s and social media brought along a new definition of alternative fashion. Mixing together dark clothing and shoes with bright flashy accessories was a trend new age alternative teens and adults took a part of. 
If you saw someone wearing bright colored jewelry and looked at their shoes, you would usually find them wearing the recognizable shoe brand Demonias. Established in 1993, this Southern California based company has become increasingly popular among high school students. 
Manchester High School Student, Emma Heimer, currently owns 4 pairs of Demonias. "My favorite is the Swing-230s in black. They're my newest pair and I've wanted them for a long time". Swing-230s have a 5.5-inch platform with a flat bottom with an upcurved toe to prevent tripping. The heart buckled boots are in a mid-rise style and come in black, white & iridescent, holographic silver, holographic purple, and rainbow. 
The emergence of these new age alternative teens has influenced not only their own culture's style but almost everyone else's. More brands, like Dr. Martens and Converse, have had a spike in the popularity of their platform style shoes. Although the soles are as big as Demonias, that doesn't mean their impact isn't. 
Whether it's deemed as "too tall" or "too short", there's no denying that platforms are one of the world's fashion staples.
Leave a Comment